By: Shak Shuka
Sometime over the past few days I happened upon this article by Kelli Finnegan in which Kellie describes her childhood memories of growing up in Toms River. Reading her article, I couldn't help but wonder, what are we missing here? Toms River sounds like such a beautiful town (albeit with a history of hate). Driving through Toms River on various occasion, I had a similar impression.
So why so much hate? Why do folks like Johnny Arthur, Christy Barber, and  Gina Marie DiRienzo, insist on making it their top priority that Orthodox Jews should not be allowed to live in Toms River? They claim they are not anti-Semites, yet a recent post from Gina indicates her true intentions.

Who are "they" and what does "stay strong" mean?
I can go on forever about the references that these hateful individuals make. It seems quite suspect when a group is supposedly concerned about local issues, but then posts articles from across the globe (e.g. Monsey, Kiryas Joel, and Isreal??) as if it relates to the matter at hand. It seems quite suspect when they claim the issue is about overzealous real estate agents, but then it seems that the issue is really about what the Jews have done to Lakewood. Its seems quite suspect when Gina Marie reposts the following from Johnny Arthur: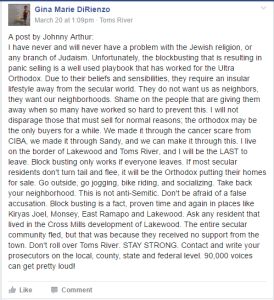 How in the same breath can you say "This is not anti-Semitic", but preceding that, talk about ways to keep Orthodox Jews out of Toms River??
Why did Christy Barber start a Change.org petition to stop the Chabad (posts about the Chabad upcoming in the near future) from obtaining a use variance by claiming that by allowing the Chabad "to operate as a religious school will have a paralyzing effect on the traffic of an already congested road", when it is a well known and documented fact that the Chabad only has a handful of students come by a few times a week for Hebrew lessons? Will 5-10 students paralyze the area? Does Christy have an issue with the adjacent Our Lady-Perpetual Help Church and George P. Vanderveer American Legion Post 129? 
Mindblowing. Or perhaps not.
#TomsRiverStrong
TomsRiverNJStrong@Gmail.com